Collections
Easily shop for artwork based on my themed collections. Each image may be purchased as a canvas print, framed print, metal print, phone cases, clothing, beach towels and so much more! Every purchase comes with a 30-day money-back guarantee. Click the next arrow to view all of the various collections. Reminder: The Fine Art America watermark will not appear on any ordered items.
About Timothy Flanigan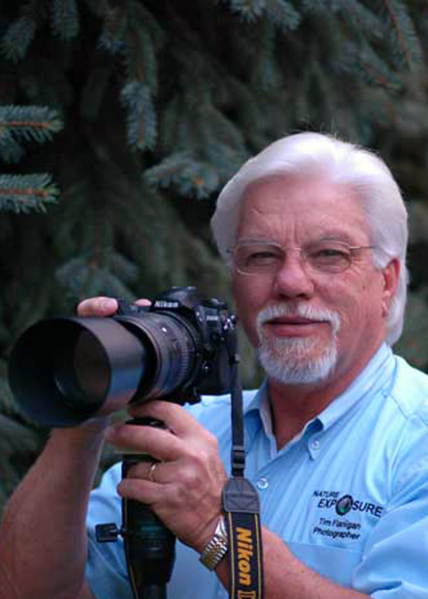 Thank you for viewing my work! Please leave a comment or two, positive or critical, they each help me grow.

(Please note the LEGAL & COPYRIGHT WARNINGS at the end of this biography)

According to Tim; the great charm of photography is its ability to capture a unique moment in time and share it with others. For many people today, wildlife and nature are difficult to experience due to workplace cubicles, increasing and demanding time constraints, and consistently limited natural world connection opportunities. His joy of sharing his images of wildlife interaction or a beautifully wild place is only surpassed by the recipient's association with his prints in a positive, lasting way.
Tim Flanigan was mentored as an outdoorsman by his paternal Grandfather who ignited his lifelong thirst for knowledge of the natural world and its inhabitants. Experimenting with photography at an early age, he soon realized that the camera enhanced his ability to study and record all things wild and natural. Throughout his career, he has been resolute to the rapidly changing photographic technology and the skills required for success, from box cameras and black and white film to the digital cameras and electronic darkrooms of today. His skill and dedication to his craft have consistently garnered him numerous national, regional, and state awards over many years.
Tim has been producing top-quality photographic images for the print media for many decades with photo credits in numerous venues including book covers and inside the pages, magazine covers and within their folds, newspapers, greeting and postcards, calendars, travel brochures, phone books, advertisements, online, corporate contracts as well as restaurants, home decor and for personal collections.
Tim uses his images to create and present educational and entertaining programs to diverse audiences. His presentations have appeared at national outdoor shows, sportsmen clubs, garden and camera clubs, state agencies, and various organizations and banquets. Subjects include much of the flora and fauna of North America. He also presents outdoor photography and post-processing seminars for groups, individuals, and various courses for community college attendees. He leads photographic and naturalist tours that include camera usage and techniques as well as plant identification, medicinal uses, and Indian lore.
Timothy C. Flanigan is the author of the book, "Grouse & Woodcock - The Birds Of My Life". It's a 40 chapter, hardcover book in landscape format, fully illustrated with hundreds of original photos among 413 all-color pages, celebrating his devotion to two of America's greatest game birds: ruffed grouse and American woodcock. It's all here in this beautiful treatise: natural history, anatomy, breeding and nesting, habitat preferences, predators, food and feeding habits, and much more, all information and illustration gleaned from 50 years of Tim's study of these wildest of forest species. For more information or to purchase, visit www.WildRiverPress.com.
Tim is also a contributing photographer and writer to The Upland Almanac, The Ruffed Grouse Society, Buckmasters, and Buckmasters On-Line. He has been published in Petersen's magazines, Wildfowl Carving magazine, North American Whitetail magazine, Field and Stream, Pennsylvania Game News magazine, and Game and Fish Publications. He provides stock agency images and also freelances to numerous outdoor publications.
He enjoys membership in the Professional Outdoor Media Association (POMA). He is also a past president and member of both the Pennsylvania Outdoor Writers Association (POWA) and the Mason-Dixon Outdoor Writers Association (M-DOWA). His memberships extend to various art and camera clubs in multiple states.
Since 1987, Tim and his wife Debbie, operate Nature Exposure, outdoor writing and photography business in Bedford, Pennsylvania. They specialize in supplying content and photography to outdoor publications. Tim is available for freelance assignments and shoot-on-demand projects. For more information make contact or visit the website, www.NatureExposure.com.
Join me on Facebook: https://www.facebook.com/TimFlanigan.NatureExposure,
or connect on my Facebook business page:
https://www.facebook.com/NatureExposure where I post my shots of the day.

Please read:
LEGAL & COPYRIGHT ~ WARNING ~ ALL IMAGES and content contained herein are the exclusive property of Timothy Flanigan and Deborah Flanigan of Nature Exposure and are protected by U.S., Canadian and International Copyright Law. KNOW OUR RIGHTS and avoid prosecution. Images MAY NOT BE copied, published, reproduced, stored, projected, manipulated, altered or used in any way, including but not limited to any digitalization of the images or blog posts, alone or with any other material, by use of computer or any other electronic means or any other method or means now or hereafter known, without the written permission of Timothy Flanigan or Deborah Flanigan or Nature Exposure or agents representing them. NONE OF THE IMAGES PRESENTED HERE ARE WITHIN THE PUBLIC DOMAIN. WARNING! USE OF ANY IMAGES as the basis for another visual concept or illustration such as drawings, paintings, sketches, photographs, artist renderings, photocopies, etc. is a VIOLATION OF COPYRIGHT LAW and violations WILL BE prosecuted. UNAUTHORIZED USE IS THEFT. Make contact with all usage requests. All Rights Reserved.